Scientific Methodology For Slips & Falls
Slips and trips are some of the most common injuries that occur both on and off the job. Ensuring that walking and working surfaces are safe is mandatory in the workplace. At Accident Prevention Corporation, we are dedicated to using science and proven test methods to help companies measure the slip resistance of floors and other walking and working surfaces. Our Tortus® Friction Tester meets ASTM standards and is one of the only friction testers (also know as a tribometer) recognized by US courts. If you have surfaces you need tested to determine their friction properties under any conditions, let our highly qualified slip test technicians perform the necessary tests and provide you with the highest quality reliable results.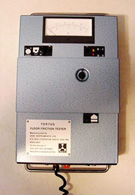 Onsite and Online Training Now Available!
Safetyman® now offers onsite and online training! We also offer site-specific safety audits by former OSHA Compliance Officers at your facility.
Take advantage of our experience as former OSHA Compliance Officers and let us show you how your facility can operate safely while preserving profits.