OSHA 10 & 30 Hour Courses
Our training courses make your training job easy! Our easy to use PowerPoint presentations cover the topics you need most. Whether you are conducting an OSHA 10 or 30 hour outreach course for construction or general industry we have you covered! Our courses will make your training effective, simple and easy!

--------------------------------------------------------------------------------

OSHA 10 & 30 Hour Training Course Downloads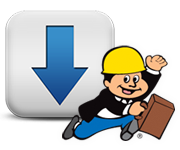 Now even bigger and better than ever! Safetyman announces the new and improved APC OSHA 10 & 30 Hour Training Courses. Our new and updated OSHA General Industry and OSHA Construction Training Courses are available for download and make your OSHA training easy to deliver. Our programs include the new Introduction to OSHA, the new Crane Standard requirements and the focus four! Start your safety & health training program with the right materials by ordering a copy today.

These Powerpoint presentations are the full compilation of all pictures, graphics and word slides Safetyman uses in his 10 & 30 hour OSHA training program. With the new topics and programs these materials are all you need to effectively teach these programs for only $149.95.

After your order is placed, Safetyman will email you (within 24 hours) directions on how to download the training materials!
REQUIREMENTS: Microsoft PowerPoint
OSHA 10 & 30 Hour
Construction Training Course

OSHA 10 & 30 Hour
General Industry Training Course
Onsite and Online Training Now Available!
Safetyman® now offers onsite and online training! We also offer site-specific safety audits by former OSHA Compliance Officers at your facility.
Take advantage of our experience as former OSHA Compliance Officers and let us show you how your facility can operate safely while preserving profits.